"All in One" Versele-Laga Colombine Grit 22 lbs.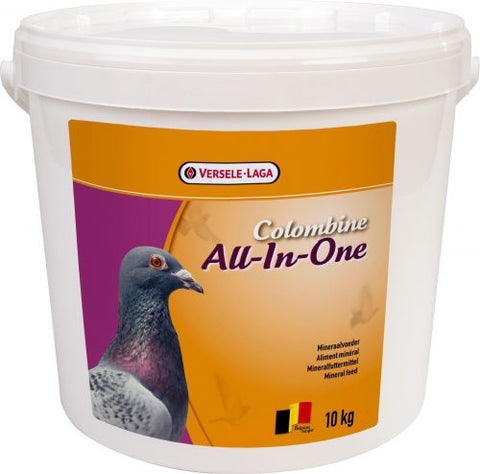 *This item is repackaged in a  bag, and sent via Flat Rate USPS for best shipping cost* ($23) unless noted otherwise by buyer
"All In One" grit is the most complete vitamin & mineral mix around. Both vitamins & minerals are essential to promote optimal metabolic function in supporting muscles and bone structure of pigeons. This product contains everything a pigeon needs for the best possible breeding, racing, and moulting season.
Ingredients: shell flour, redstone, stomach gravel, coral algae, hulled oats, sourghum, broken rice, soy flour, corn, millet, salt, flax seed, safflower, peas, rape seed, adzuki beans, spelt husks, brewers dried yeast, supplement, vitamin D3 supplement, Vitamin E supplement, mannan-oligosaccharide, choline chloride, cranberry pomace, lecithin, l-lysine marigold, manganese oxide, zinc oxide, ferrous sulfate, copper sulfate, calcium iodate, selenium yeast, sodium selenite
Feeding Instructions:   Breeding period provide one teaspoon per pigeon in a small pot each day.     Racing & Moulting season provide freely in loft in a pot, and refresh daily
*This item is repackaged in a  bag, and sent via Flat Rate USPS for best shipping cost* ($23) unless noted otherwise by buyer