Meditrich (MedPet) 100 tablet bottle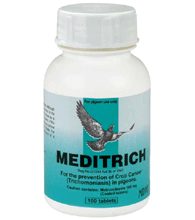 This provides the ultimate single dose treatment of Trichomoniasis (cropcanker) in pigeons and raptors. Metronidazole, the active ingredient in Meditrich, is one of the safest and most effective treatments against Trichomoniasis in pigeons.
Dosage: 1 tablet per pigeon once a month (during racing season). It's also recommended to administer one tablet to youngsters as they are being weaned.