Natural Antwerp PICKSTONE 620 grams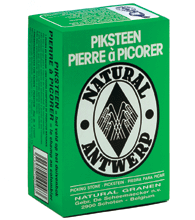 Natural PICKSTONE consists of a dozen natural ingredients. Natural PICKING STONE offers an important supplement of natural minerals and oligo-elements. Natural PICKING STONE does not contain any appetite stimulating substances and meets a natural habit of the pigeon. Sold in over 40 countries, there is over a quarter of a million pigeon fanciers feed Natural PICKING STONE to their pigeons. It is by far the most popular picking stone for the racing pigeons in the world. Natural PICKING STONES are freshly made every week and an essential element in the modern racing pigeon's feed.
Composition:
Clay, seaweed, magnesium, grit, redstone, oyster shells, stomach grit, charcoal, etc.