Versele-Laga Gerry feed (48 lbs)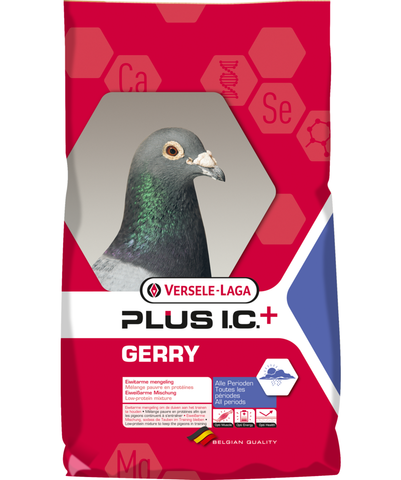 Complete low-protein mixture
Complete pigeon feed enriched with the special Immunity Concept⁺ grain. On the wide market pigeon feed, the Plus I.C.⁺ Gerry, just like its predecessor, becomes the leading low-protein mixture. Ideal for young and old pigeons. The extruded added Plus I.C.⁺ granules guarantee better digestion and an extra number of vitamins and amino acids that are important during the breeding and breeding season. This is so much more than a classic pigeon mixture that only offers a solution for the protein and fat needs of a pigeon. It makes the difference between a pigeon and a top pigeon.
Complete pigeon feed enriched with the Immunity Concept⁺ grain. Low-protein but high-fat mixture that provides the pigeons with enough energy to train fully.
Suitable for both young and old pigeons, ideal to keep them training.
Mixture is easily digestible and provides the pigeon with all the necessary vitamins, amino acids and minerals. Also guarantees optimal protection against gastrointestinal problems.
Composition: Red maize 4%, Small cribs maize 31%, Katjang Idjoe 1%, White pigeon wheat 2%, White dari 15%, Red dari 6%, Safflower 19%, Pigeon barley 1%, Paddy rice 12%, Broken rice 2%, Peeled oats 2%, Buckwheat 1%, Brown linseed 1%, Racing Pellet I.C.⁺ 3% Directions for use: On average, 30 g of feed per day per pigeon. Always provide fresh drinking water. Tips: An ideal sports mixture to feed the racing pigeons during the week. Make sure they get enough energy inside, but still keep training well. Once the young pigeons train enough around the loft they can be fed some more.